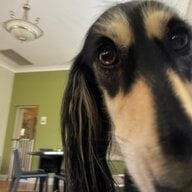 Joined

Jan 22, 2014
Messages

5,587
Whoa, what are an awful awful experience.
I was hacked, they stole my Facebook account and it's non recoverable but worst they stole my eBay account. They tried to get my Amazon account Instagram and PinInterest.
How I'm not sure, I use an iPad which is meant to be quite secure however…….
The slime who stole / bought my eBay account in less than 10 minutes managed to make 37 purchases and put offer in (why????) another 17 items. Thankfully after an hour on the phone to eBay US from Australia I got my account back. The purchases were cancelled and the offers lapsed. Thank God my PayPal was never breached.
I then spent 4 hours changing every single password I use on every website I visit. I deleted multiple apps off my iPad and iPhone, changed everything I could to 2 stage identification and will now change every password every week to be sure I stay safe.
Im sure I was compromised through Facebook. I was careless and carefree. On Facebook you receive all sorts of stuff through "news feed" and I occasionally click on the link to find out more.
Dont.
One of those items contained malware and from there I was compromised.
Dont leave tabs open on Safari, that's how they managed to expand their evil activities.
lesson learnt.
sad about Facebook, but not worth the risk to me.