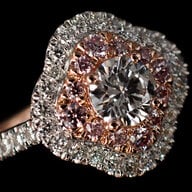 Joined

Mar 31, 2009
Messages

770
Hi, this is my very first post at PS and I actually wish I''d read a lot lot more before having put my ER & band in for remodelling ... for the 2nd time! My original ER was a Tiffany Legacy style in Rose Gold with WG setting, but unfortunately the crossover wires wore through within 2 years against my princess diamond bar set wedder. So, I had it remade and the result was HORRIBLE!!!!! Now that I have read a lot more on this site though, I can see that all of you could have picked it apart for me and maybe I didn''t need to get it completely remodelled.
Anyway, here we are and I have it in with a jeweller in Melbourne (Australia - where I live) as I saw their version of the Lucida and just loved it, especially because it''s what my husband initially had made for me, so it keeps the sentimental value there and hopefully as I''m having it in white gold this time it will enhance the stone rather than emphasise that it''s a smaller centre stone. I''m just concerned that I originally wanted it to be just like the one in the store, except that had a larger centre stone which is a round brilliant whereas mine is a princess cut. So, when I saw the CAD pictures I had an issue with the supports that run across under the stone because in the store with a larger diamond they didn''t need to use those. Also, I enquired about having picture frame claws rather than standard round claws (I apologise our terminology might be different here to the US) and initially they said not to, but in the end when they decided to do it in CAD rather than using a cast, they said they could. Anyway, I''m only interested in opinions. I haven''t been in to see the wax version - I could have but felt as though I was being a pain, where I should trust the jeweller to make it fabulous for me. I only have a .70ct princess and my wedder will have 11 x .5 princesses so it''s not huge however I am quite a large ring size (an
so he will have to be a bit of a magician to make it look generous on my hands!! Anyway, that''s the story. It''s away having the diamonds set and I expect to get it this week, but am really worried about that support across the side - I think it makes the small side stone look a little strange? It would look much better open, but the jeweller will not guarantee the centre stone security without it. I will attempt to attach the wax pics for you ... hmmm, not working. I will have to figure out how - sorry.