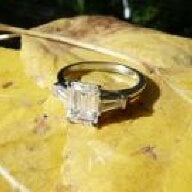 Joined

Jun 26, 2008
Messages

2,469
Another #4 is off the list
must be a lucky number, i was so sure id exit at #5...fingers crossed 4 is lucky for Miss Kitty

So i guess you guys want a proposal story?

Well this friday just gone SO and i went out to dinner, nothing unusual there...at dinner he gave me a small box with a bunch of different pieces of paper in it and told me to work out the puzzle. The puzzle was our flight details to New York the next morning
i had no idea it was such an amazing surprise!
On arrival in New York a town car picked us up at the airport, and instead of staying with some family he has there took us to a hotel on Central Park South - our suite had views across the entire park, it was amazing

We went to dinner at an amazing restaurant and then to Top of the Rock to take in the views...but no proposal!
The next day we had brunch with his family and then went shopping (poor SO, he was being such a sport!) and the darling man was determined i should get a pair of christian louboutins that id had my eye on - alas that didnt work out, nowhere had my size and now im annoyed i didnt get a different pair...but onto better things...
And that evening we had another amazing night out...but no proposal
The next day we spent the morning in Central Park (poor SO again, there were workers protesting at the Boathouse so his plan for a romantic row boat proposal didnt come off!!) and then went to the statue of liberty...and that night on our way out for drinks we took a turn through central park and he sat me down on a park bench by the bridge, looking across the pond to the lit-up plaza....and got down on one knee...and proposed


it was sooooo romantic and amazing


we went for celebratory drinks with a cousin of his and then had an amazing, romantic dinner, champagne, new york cheesecake etc

afterwards we went to the Empire State Building and it was a perfect night (and not busy!) and then went back to the hotel to celebrate some more
We had another half day and got home very late last night! it feels so surreal now, like it was just a dream..fortunately i have a honkin' big rock on my finger so i know it was real

And now specs!
1.78ct EC
D VS2
More deets and pics will come in SMTB, but for now here's a teaser pic: