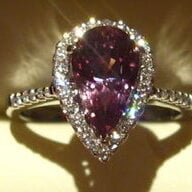 Joined

Jun 29, 2008
Messages

10,224
I am stunned (not easy to do) and delighted with my new watch! Actually I've only been allowed to "play" and take photos for today and then husband is hiding it until my birthday in April.

I've taken a few very quick pictures but they really don't show the beauty of the watch/diamonds. The diamonds have wonderful fire and the whole watch sparkles like mad!
Here are the stats:-
Brand: Hamilton
Age: Not sure
Case: Platinum (900, Iridium 100). Curiously there is a circle with LV inside it and a number 107 underneath.
Movement: 17 jewels with the following markings: 995A and F79085
Other markings: There are a ton of these lightly scratched into the inside of the case (mostly numbers and letters).
I've tried to identify the age/model of the watch without success so I've emailed Hamilton to see if they can help.
Anyway, here are the photos! I've put a w/gold watch strap over the top of the other strap to see which I like best!