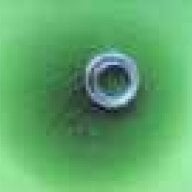 Joined

Jun 3, 2003
Messages

447
I received my SI ultrasonic cleaner today and tried it for the first time. OMG it does an amazing job. I have one concern and a question and hope you SI owners can help me.

1) The unit is pretty loud. It makes a ticking sound every few seconds. Is this normal? I got it off Ebay and it''s a reconditioned unit.

2) I mixed 2/3 of hot water with 1/3 of windex. Is this ok? Will it be too harsh on my gold and platinum?

Any feedback is much appreciated.

Many thanks.