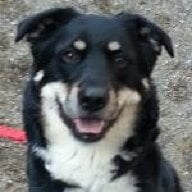 Joined

Apr 27, 2007
Messages

1,541
Hello! Work today was super busy, but the day went by super fast so that was good. Matt was supposed to have a root canal today, but the endodontist decided he only needed a crown and sent him on his way. He was a happy boy, especially after all of that whining and feeling sorry for himself this morning. He can't handle any kind of pain. He took me out to Chinese for lunch, and for dinner I had a piece of leftover meatloaf and salad and Matt had leftover chili. We went to TCBY for dessert since I had a bunch of points left. We're getting ready to take our walk, but will probably only walk about 2 miles. I haven't been able to go the full 4 miles all winter.

Marcy-I think a lot of people at that Coach outlet buy stuff to sell on ebay. I can tell a lot of those people aren't there buying for themselves or buying gifts by the way they're grabbing and not really looking at the items. Sometimes I think they should start limiting the number of bags people buy, but I guess Coach doesn't really care as far as that goes. I am glad to hear that Marty's follow up appointment went well. I'm always threatening to shop up to work in my flannel jammie bottoms and a sweatshirt. I think I'd get all kinds of work done like that.

Have a great day tomorrow!