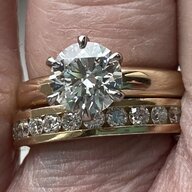 Joined

Feb 27, 2007
Messages

23,427
Is it Friday yet?
Work was hectic today. I refrained from snacking or eating chocolate though. We went to supper with some friends. I had 1/2 of a french dip and a few homemade potato chips.
Marty is heading to LA next week. His hotel is on the ocean I sure am debating going with him. Sounds like a great time. I hate to take vacation though while he is working. That makes it just weird.
My glasses broke AGAIN after getting them fixed this morning That is 3 times on the nose pads. I called and asked for the manager of the optical shop. He did not know what had happened so far but I guess I can pick out another frame if I want. I will wait and see what the new pair does when I get it in. I told him if the nose pad comes off one time I will want something new. I told Marty it was karma from the favorite jewelry store because it is jealous I bought glasses from Tiffany & Co. LOL.
Deegee, have you been shopping yet for your birthday / anniversary present yet?
Take care.
Marcy