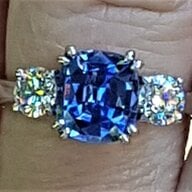 Joined

Apr 5, 2012
Messages

987
I am considering buying a faint green round brilliant diamond with strong blue fluorescence. It has some yellow and some grey to the body color, and from the side view it looks very tinted. In the video of the diamond the color is quite noticeable face up too, but I'm wondering if it will be in real life, as I have noticed comments from people on PS that faint hues are rarely that noticeable once set. With the diamond being round brilliant, and with the strong blue fluorescence, I am wondering if it will just end up facing up white? I was thinking of a rose setting for it, as maybe the contrast with the pink hue of the gold may make the green show up more. But if "faint" is really too faint to show up in real life I'll probably skip the green idea and just go for near colorless.
Does anyone own a faint green or other light green diamond? If so, how did you set it, and how noticeable is the color to your eyes?
Any photos would be great!