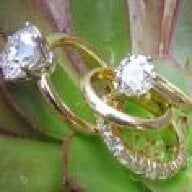 Joined

Feb 24, 2008
Messages

3,365
Hi girls,
I am hoping some 'experts' will weigh in on this... and that the rest of us can just give our non-expert opinions as well!

I am currently midway through an engagement ring project (upgrade!

) that I am doing with a local diamond guy, Jogia Diamonds, based in Perth.
To be honest, they are a really nice family outfit, and I like them quite a lot.
The thing is, they are really focused on diamond quality, with the emphasis on cut, and their settings are not the focus of their expertise.
However, they are getting a manufacturing jeweller on board, and I expect that they will be moving towards a more dynamic design process in the future..
Sorry for all the background...
So I go into the office, and it was all about the diamond (fair enough)
I finally selected one, and then it was almost an afterthought to find the correct setting. Basically, I was expected to pick on from their online CADs!
(They are currently in the process of building up some stock for showing purposes.)
Upshot is, I think the only solitaire ring I could see 'in the flesh' was their Tiffany-style setting, called 'Cuts Like A Knife'. It was in WG, and measured about 3.5mm wide in the shank, from memory. Apparently this whole ring is quite true to the spirit of the older-style, heavier Tiffany 6-prong style.
I really wanted a 6-prong sol, so I ended up choosing that one.
Anyway, I am a hardcore YG girl, and am worried that translated to the YG, it will look clunky in that wider shank. Most particularly, if I get the matching 3.5mm YG wedding band to wear with it. (diamond band to come further down the track!)
One advantage of the wide shank (as opposed to a skinny shank) is that the head sits in the shank so the wedding ring will sit pretty much flush.
Yogesh, the proprietor, is an old fashioned guy and says thinner bands look flimsy. I like this guy. He doesn't seem like a 'high fashion' guy. He says Tiffs originally cut back on the heavier knife-edge style basically to save money and now he gets a quarter of his clients asking for the thinner shanks... *shoulder shrug*
However, he says he will do what he can to accommodate my wishes regarding shank width. I'm thinking no wider than 3mm would be a more modern 'take' on the Tiffany (particularly as rendered in YG).
Originally I wanted a skinny band (I'm just a trend follower, it seems!) haha
But I would really prefer for it to sit flush as well...
How do 'the real' classic Tiff setting rings measure up width wise
in the shank(heavier style vs thinner modern style), and would you tamper with a legend??