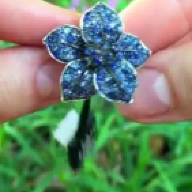 Joined

Nov 14, 2015
Messages

1,148
Does anyone else go through a "meh" stage? I'm in 1 right now... It might last an hour or 2 or sometimes the better part of a whole day where I just look at my (steadily expanding) collection of jewellery and just feel "meh".
It's not that I don't love my jewellery because I do; and not that I don't love my loose stones because I do but... I don't quite know.... maybe it's the feeling of glimpsing upon a world knowing you can never be properly part of it. I mean, gems and jewellery: obviously we all have the stuff that is within our means... but my eyes have seen the possibilities

and now maybe my heart wants those out of reach possibilities....
It's a bit difficult to play this game of acquiring gemstones and treasures and not let your head fly off into the sky and into a world of royalty and fancy ballroom dances and etc. But that
isnt
my life so...
I guess I'm saying sometimes I forget to feel grateful for what I already have instead of having an undying thirst for more and bigger and better and sometimes I wonder
what am i doing with actual gemstones???
I can't be alone in this...?