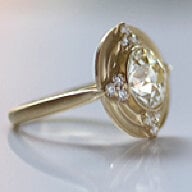 Joined

Jun 8, 2009
Messages

21,747
Visit this article by Bruce L. Harding to learn more:
Why are the 'Best' Cuts on the Edge of the Table-Bezel Zone?
Garry Holloway was the first to suggest a meaningful explanation for this: he suggested that, because there is a small difference between pavilion main & half facet slopes (less than 2º in a typical round brilliant), this may cause one to be dark when the other is bright – producing contrast in the gem's image. Studies of human optical response say that this is attractive to viewers; it may be why the people Tolkowsky polled chose the proportions they did.
Thanks to Bruce L. Harding for his contribution to the PS Journal.