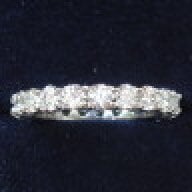 Joined

May 4, 2008
Messages

884
Hi All
Ok, here is my situation, My MOH is planning my shower and needs to know who to invite, i gave her the list. My FMIL is helping her.

My Fiance''s parents were divorced. Both remarried. Then FI''s dad died.
So FI is inviting all his dad''s family to the wedding (in honor of his dad) = they do not really talk to him at all but its the "right thing to do".
I have never met ANY of them.
So, FMIL is insisting that I invite all the females (on his dads side) to my shower and I really do not feel comfortable doing that.
I have never met them - EVER.

What do I do? do I HAVE to invite these people to my shower? FI thinks they will NOT come to the wedding as they never talk to him but he is still inviting them in honor of his dad.
help!/!