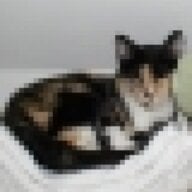 Joined

Jan 29, 2003
Messages

534
Me, that''s who! I am so excited as the day approaches. I will finally get to slip some rings on to my 4.75 size finger. I am so anxious to see what size stone looks good on me. Did I mention my fingers are long. My ring finger is 3" long.

Of course we''re not buying retail but I will finally get to see some Vatche settings in person-and really get a feel for what I like. Oh, lord, I''m too excited. I wonder if I''ll like the Vatche setting I have been eyeing. I am really upset about the price increase but am still anxious to see it.

How did you ladies who go to pick out your own ring do it? I feel like I''m going to pass out and my appointment isn''t until Saturday. I had a 1 carat before and I thought it looked okay but culd go bigger. My sister has a 1.21 carat and it definitely has undergone shrinkage for me and is not so big anymore. Now I have read a lot of messages about women with slender 4.5 size fingers saying over a carat is too big but I just can''t imagine. Maybe I had a poorly cut 1 carat.

I''m so excited!!!! I know after Saturday I''ll be desperate to buy the ring already. I better start playing the lottery.