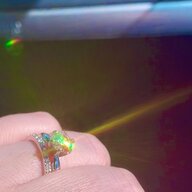 Joined

May 6, 2019
Messages

281
Does anyone know if rhodium plating lasts longer on certain alloys of white gold?
My e-ring setting is 14k white gold, the alloy is made up of zinc, silver, palladium and copper.
My wedding band is 18k wg, the alloy contains only copper, nickel and zinc.
They've both had the same amount of wear but for some reason the 14k setting now looks completely unplated whereas the 18k band is still really white looking.
Is this normal? I'm not bothered by it, just find it really interesting to learn about jewellery and understand it's varying properties.