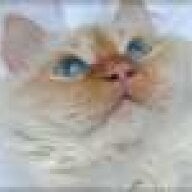 Joined

Mar 30, 2009
Messages

326
HI everyone,
You' all have such wonderful taste, I would love some opinions on these two bands. I love traditional AND quirky..but I can't decide on which I would want more, especially as I get older. I had chosen the white diamond shared prong half eternity band already to go with my solitaire in matching platinum. It's very classic, traditional and will last the test of time. But I also feel like a lot of people have this set.
I tried on a rose gold ring and loved that too. I have a rolling ring and I love the play on the colors of the golds. Now my imagination is going wild and was thinking about going with having a shared prong in rose gold and pink diamonds made. In order to figure out what it would look like, my Fiance did a quick (he really wanted me to emphasize that it a very quick job and was not his best work) photoshop to show what the two would look like side by side.
I know that ultimately, it's up to me, but I thought I would share and get some opinions. THANKS in advance.
I hope this attaching thing works.