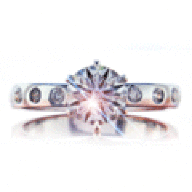 Joined

Apr 19, 2010
Messages

3,296
I'm trying to decide on a round aqua stone to put in the Iolani setting from Sally at HOW. I love Freefly's ring and I want something just like this in white gold with an aqua:
[URL='https://www.pricescope.com/community/threads/just-back-from-thailand-with-new-ring-from-sally.126901/']https://www.pricescope.com/community/threads/just-back-from-thailand-with-new-ring-from-sally.126901/
[/URL]
Anyways, I've narrowed it down to 2 choices that I have purchased from Gemfix. The first is a 8.75mm stone that is fairly light in color but still very pretty. I really like how much the cut shows in this one and the lightness doesn't bother me. The second is a 7.4mm stone and it is more saturated but I feel like the edges can get very dark (the stone seems a tad shallow, maybe this is why?). Not sure if a bezel would help to fix this?
I'm wondering if the 7.4mm would be smaller than I'd like but I'm also thinking that a 8.75mm stone in a double bezel could be very large on a size 4.25 finger. I do like big rings though so I might be ok with it. I just can't seem to visualize it and I don't have any similar rings for reference (my e-ring is a 6mm round solitaire and all of my other set stones aren't round or bezeled). Does anyone know how much a double bezel adds to the finger coverage?
I love the proportions of Freefly's ring but I'm not sure the mm size of a 1.76ct OEC (maybe I should ask in a different thread)...
I think an 8mm stone would have been the perfect size and I wish I would have snagged this one but I saw it after it was sold
http://www.acstones.com/productcart/pc/viewPrd.asp?idcategory=26&idproduct=3829
So from the photos below, which stone would you choose? Also, if you've seen any aquas around 8mm, feel free to post them too... Sorry for all the questions, I appreciate your advice!
ETA: I just wanted to add that I can't return the larger aqua because I'm past the return policy. So if I choose the smaller stone, I'll put the larger one in a simple pendant or sell it. If I make up my mind by Wednesday and choose the larger stone, I can return the smaller one and save my money. I guess that really doesn't matter though, I just want to choose the best stone for the ring setting.