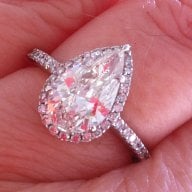 Joined

May 23, 2010
Messages

6,731
I'm not sure,
how are you supposed to tell?
As the client side of our company for 30 years, I am very comfortable talking to men, and find them more interesting and less judgemental than women. DH says the men think I'm a terrible flirt, but I've never perceived myself as doing that. I say I'm just friendly. But if any of them were attracted to me, they didn't make it very clear.
As for previous boyfriends they were too varied to be any kind of type. I always felt that if someone asked me out, it would be mean to say no, so I always said yes, for at least one date. Ages, types, builds, too much variation to answer that.
So, yeah, I really don't know.