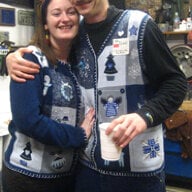 Joined

Jun 27, 2008
Messages

3,899
hello everyone! I bought two dresses from macys, and cannot decide which one to wear. to give you an idea, i am shaped like an out of shape pear... or say an hour glass with a wide middle

anywhos, i cannot decide which dress to wear for the wedding, or even which type of shoes, and nylons (I''m Washington state pale).
So, any advice is appreciated!!
here is the first dress.
Jones New York - Overstock
I love the Marilyn style because it helps "tighten" the waist and flows over my hips nicely. Plus with spanks on, it looks better for my hips/thighs. the only problem is that is maybe a hair to big, and so the girls really stand out. a lot.
i am thinking regular pumps to wear with it and nude nylons/spanks?