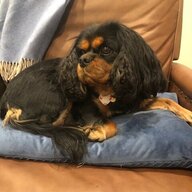 Joined

Mar 2, 2020
Messages

13
Hi all,
I have been looking off an on for a year for a nice small Alexandrite which will be made into a birthstone ring representing my son. I am not in any rush, but I don't need to wait around for perfect, just pretty good. I have narrowed it down to three stones and would like advice from those who are more experienced with Alex to help me decide. Should I buy one of these, or wait for something else? I have also gotten a video but there are other stones on it that I have eliminated and nothing is labeled so I am just showing pics.
All stones have strong color change, are similarly colored, and they are all cut into an Emerald shape. I know cut isn't king in Alex, it's all about the color. I am just concerned if they would be too dark or muddy IRL, even once set into a ring in platinum. They are all within my budget for this piece, but have somewhat varying prices.
Option 1: smallest, shallowest and cheapest, with a decent size window but maybe that helps see the body color better? Also comes with complimentary GIA cert.

Option 2: longer and narrower, middle size and price. Comes with complimentary GIA cert.

Option 3: Largest stone and highest price of the three, especially considering it doesn't come with GIA cert and I would want to buy that. This is my top choice of the three, but I'm just a bit hesitant because I am not an experienced buyer.

All three together placed on a hand in order 1,2,3. The website pics make them look more different from each other than they do when next to each other. They are all very similar in color, saturation, and color change ability.


Thanks!
Juls