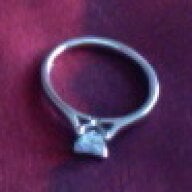 Joined

Mar 4, 2010
Messages

2,357
...to go to the exact same place, do both of you bring keys, wallets, phones, etc.?

I was brought up in a family where only one of us brings these things along. I guess we figured that we're all going to the same place so what's the point of carrying a zillion things with us. We sort of learned to rely on each other.

FH was brought up in a family that does the exact opposite. They all bring everything regardless of the fact that they're going to the same place. I guess they worry about being separated while they're out, or something.

FH and I have had many arguments over the fact that we would leave the house and I wouldn't bring these things along. After a while I got tired of fighting, so I just lug my purse EVERYWHERE, even if we're walking to the store which is 2 mins away, or we're moving the car from outside our place to the parking garage (1 minute drive away), etc.

What do you do?