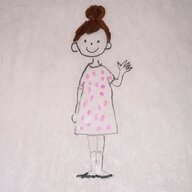 Joined

Feb 2, 2016
Messages

9,633
It probably isn't looking for a cheerio!
Okay so today I noticed my very well fed cat stalking the refrigerator. We have had a few mice recently that we trapped and let go (I know there is never just a few) but they have mainly kept to one cabinet. Now though they are starting to get a little more brazen,
So I get on the floor with the cat after taking the front grate off and low and behold there is the little bugger staring back at me from behind the drip pan. Okay so now I'm thinking I have to get him out. I shake the drip pan and the mouse comes barreling out, I run screaming, bang into the dog water bowl which sends water flying everywhere, the cat is somewhat going for the mouse but a very futile effort. Plus I didn't really want him to catch it because you never know what it could have. Just a total hot mess.
As of right now I am holed up in the bedroom with the dogs with a humane trap set out with peanut butter in a kitchen that looks like a typhoon went through it. My husband isn't freaked out because I guess he had nice growing up but we never had anything more than ants so I am a wreck.
Anyone with experience in mouse control? I want to put something under the fridge to deter them but we have pets and kids so it has to be safe for them. I know there are other types of traps but we really just want to relocate them and deter them rather than have them dying in the walls or on glue traps