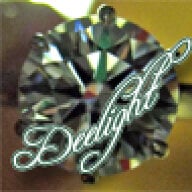 Joined

Oct 4, 2007
Messages

5,543
JFF: I know I have a certain list of items (some more irrational then others) that I must have and baring like some great disaster or complete impracticality no if's or buts I want
.
Mine are:
[*] Big cake – at least 3 or 4 tiers – I like cake and I always wanted a big cake, prefrably with a different flavour on each layer. I also want a small tier to be sugar free for my dad who is diabetic so he doesn't have to miss out.
[*] Good food and wine.
[*] Baring it not being outlandishly expensive photography coverage of the whole night.
That''s all I can think off really

.