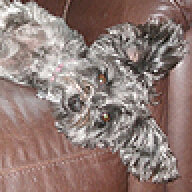 Joined

Mar 13, 2003
Messages

131
Thanks guys for all of your input on the 1.42 princess cut stone I was looking at from my local jeweler.

I dediced not to buy it, and now I''m very serious about buying my diamond online. I''m upgrading from a .25 marquise for my 15th wedding anniversary to a princess stone around 1.4-1.5 in size (funny how the more I look around the net, the bigger I want!).

Anyway, I''d love to hear from anyone who purchased their diamond online. What was your experience like? Did all go smoothly? Did the diamond appraise well? Was the stone exactly what you expected it would be? Did you have to pay for it before you had it appraised? What about the setting? Thanks!
Clem