Joined

Apr 12, 2020
Messages

20
Ive been looking for a diamond. Trying to get a i or j color, because i am sacrificing size . So larger, with bit lower color, .
During my on and off 5 year search ive learned a LOT. And many jewelers have talked about a diamond 'facing up'whiter than its gia or ags stated color.
I know that stones are grated when they are face down. And that is how they come up with the colir. So do they change color when they're set face up? I tend to think the answer is no.
Is it the cut that makes a color appear whiter?
I know flourescence has some help to make a lower color look whiter. But then why would they grade an I , an I. And a J, a J.. At the end of the day I is an i. And a j is a J. No matter what the fluorescence is. Even if it's medium or strong. Helping it look or appear whiter in certain lites, it will not look whiter and it will be truly a j that is stated.
Is this just a trick to try to sell ? Its confusing!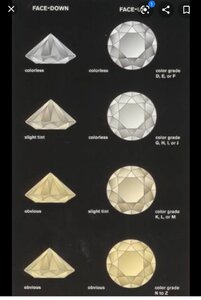 All of your expert opinions are greatly appreciated. Thank you