Joined

Dec 24, 2015
Messages

6
I've been looking for an antique filigree solitaire within my budget for years. I've finally found the right ring/stone... Separately.
This is the ring: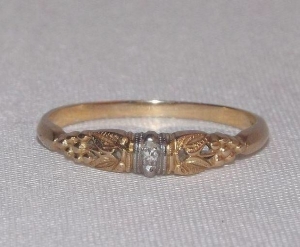 It's 14k gold. The detailing on the sides is everything I've been looking for.
However, I'm not in love with the white gold illusion strip or the diamond chip and that's the area I'd like to rework/cover with my center stone of choice. The stone I'd like to use is round, faceted and roughly a carat but I'm fine with looking for something smaller if need be. I don't want to cover up the details that sold me on the setting with too big a stone!
My main question is, would setting a stone in this ring be similar to the process of turning a plain band into a solitaire or more/less complicated?
Also, the ring is a 6.75 and will need to be resized to a 4.75. Is that enough gold to be recycled for the prongs to set the new stone?
What's the most affordable way to go about this?
Thank you in advance!