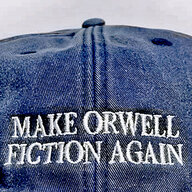 Joined

Apr 30, 2005
Messages

32,500
He's basically saying, "The DEVIL made me do it".
His only hope is getting a jury chock full of Christians.
Partial snip:
"An Uber driver who is accused of killing six people in the US state of Michigan has told police that the Uber app took over his "mind and body", setting off his shooting spree.

Police said Jason Dalton, 45, carried out the shootings on 20 February while working for the ride-sharing company.

"When I logged onto [the Uber app], it started making me feel like a puppet," Mr Dalton told investigators.

He claims that the smartphone programme told him to kill his victims.

...

According to documents released on Monday, Mr Dalton said the horned cow head of a devil would appear on his phone screen and give him an assignment."
http://www.bbc.com/news/world-us-canada-35808627