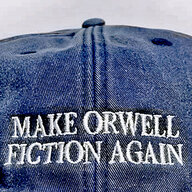 Joined

Apr 30, 2005
Messages

32,291
My next door neighbor's adult daughter is visiting.
She's about to get a $75 parking ticket because it's street-sweeping time.
I knocked on their door.
No answer.

Since they have huge windows you have to walk by to get to their door I saw their adult daughter walking around.

I have four phone numbers for them but all four went to voice mail, so I left four messages.

I could give up or walk into their backyard where I suspect the daughter is, wearing earbuds.
The parents and I are very close.
We hang out at each other's house often, but I'm not very familiar with their daughter.

It seems wrong to open their closed gate and enter their fenced backyard, especially since the daughter doesn't really know me but maybe she'd want me to in order to save her $75.
What is the more neighborly thing to do?

What would you do?