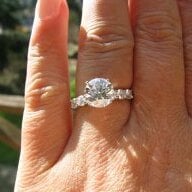 Joined

Oct 19, 2006
Messages

1,394
Sorry this is long, but I am boiling and getting ready to confront my supposed best friend!
Tonight I think I about hit my breaking point with her. She has been my best friend for more than 10 years. Our lives have pretty much paralled each other's despite the fact that I am 10 years older than her. We have been each others rock through thick and thin over the years.
Shortly after I started dating my bf, she started dating someone new. After she had been dating her bf for a couple of months, she found out he lied, cheated, used her etc. Basically he just really burned her. She started to nit-pick about my bf, telling me all men are dogs, my bf can't be trusted etc. I just tuned her out. This continued all last spring and through the summer. She has NEVER had anything nice to say about my relationship with my bf, despite the fact that he has never done anything to warrant it. She says things in a semi-jokingly way, however I know she is serious. I figured once my bf and I started talking about marriage, she would see that our relationship is serious and solid and he is a good guy afterall, then maybe she would stop the nit-picking. Well, she hasn't

A several weeks ago I had narrowed down my ring choices to three and wanted some input from friends and family. I have an email list of my "girls" and everyone but my best friend responded. Last weekend my bf got pulled for extra duty (he's in the military) so I went out with my best friend for a drink. She immediately started quizzing me as to why my bf hasn't proposed yet and why he wasn't with me that night. When I told her he was waiting for the ring to propose she said, "Whatever" and then I told her had extra duty all weekend and she responded with, "I've dated plenty of military men and NONE of them ever had to do extra "duty" - that doesn't even seem right!-HMMMMM".
When I told her we were going to Hawaii and getting married there, she asked why we had to pick Hawaii, how she hates Hawaii, why couldn't I get married somewhere else, anywhere but Hawaii etc. I calmly told her that is where my husband-to-be and I wanted to go and this is supposed to be about the two of us, not anyone else.
Last night I sent out pics of my finished ring to my "girls" list. Again, no repsonse from best friend. Tonight she calls doesn't say anything about the ring being nice, pretty etc, just asks if I am able to wear it now and I told her "not until he officially proposes". Best friend (semi-jokingly) goes into this tirade about, "What the He!! is is waiting for? It's not like you don't know it's coming. Tell him to get his a$$ over there tonight and get down on one knee and propose". I told her that my bf is a romantic and I'm sure he wants it to be special and I want it to be special too and she tells me, "Thats the stupidest thing I've ever heard!" I said, "Look, this is not about you! It's about me and him and I think that it's sweet that he wants to make it special." She went on to say, "yeah, whatever-well I wouldn't put up with that!"
What do you do ladies, when your best friend is letting her jealousy come between you? I mean, this is supposed to be one of the happiest times of my life - I am about to marry the man of my dreams, and she is not happy for me - all I get is negativity! She came out and told me the other night that she really is jealous, that it sould be her getting married,not me. She wants to fly to Hawaii for my wedding, saying she can't miss it, all the while telling me how much she hates Hawaii (even though she's never been there).
I sooooo just want to call her up and tell her that if she is going to continue with the negativity I cannot be around her right now. If she wants to share in my joy, fine, but I don't want to deal with her negativity. Seems like she is so unhappy that she doesn't want anyone around her to be happy

Sorry if I've rambled on here, I am just so disgusted right now and know I need to confront her. BTW, she is no young girl- she is a 35 year old woman!
Any words of wisdom??? How do I best handle her without destroying our friendship?