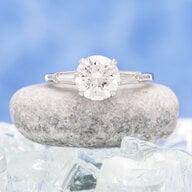 Joined

Jun 15, 2015
Messages

3,441
So. Here's the situation: my husband and I will be debt free, $10,000 from now! Yaaaaaay! We are young and happy and saving every penny to kick our student loans to the curb. We've already crushed about $100,000 - so we're on the final stretch. Hooray!
When we got married, we were extremely money conscious and spent as little as we could. My ring was $175 and my husbands was $60. Very frugally-minded choices, I'm sure you'll agree. But we'd like to celebrate our impending debt-free status, and DH will be buying a macbook. Macbooks go for roughly $1899 Canadian. I will be spending roughly the same amount on a little gift for myself

! But I'd love some ideas. I'm finding it's not a big enough budget to buy the kind of diamond ring I'd like. I could save up the difference, or, I could get a necklace! Earrings! Pearls! The world is my oyster
If it were you, what would YOU buy with ~$2000? [P.S. - Yes of course we'll save up a small safety fund first. But I didn't eat rice and beans for four years to never splurge

] Can't wait to see your ideas!