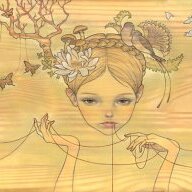 Joined

Apr 7, 2009
Messages

382
for those of you who've seen my Oscar de la Renta dress post, you'll see that it's not a typical wedding dress.

I'm having the hardest time picking shoes, jewelry, and whether I should wear my hair up or down. Decisions decisions.....

Colors of wedding are neutral gray and peach, with accents of plum, gold, and silver.

It's a city wedding.

And, I've been torn between a pair of purple shoes, cream ivory shoes, and black shoes.

Purple: suede miu mius with interesting abstract bow at the the top of the toe area
Cream: badgley mischka "lacie" with a bling brooch at top of toe area
Black: badgleys again, but in black


Q: are black shoes bad luck?
And... Any other shoe recommendations?
Which would you pick?

Sorry no links cuz I'm on an iPad!

Help?