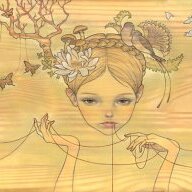 Joined

Apr 7, 2009
Messages

382
Hello old friends!

Been awhile since I've been on here. My wedding is in October 1, 2011, and Ive been dress shopping for about 5 months now. Gone to a few boutiques and found a couple dresses I liked but not loved. Over the weekend I went with my MOH to try on dresses hoping to find one I loved. I fell for an Oscar de la Renta sample, and they said they couldn't guarantee it still being there after the weekend. My MOH cried 3 times- twice while I was wearing it, and again over lunch while we deliberated over the decision to buy! I didn't cry because I was in a daze. Finally I just said- screw it- I'm buying it. Got the dress at 40% off, and took it home as-is (2-3 sizes too big).

Hours later I started bawling, feeling like maybe I made a mistake. I bought my dress 10 months before the wedding date. I felt crazy. I originally planned to go to the store to love a dress, think about the dress over the holidays, and then purchase in January or February.

How do I rationalize the purchase? What if there's something better and I rushed into it? Was this totally an impulsive mistake? It was 1k over my budget but it was an Oscar so I said why not. But it needs alterations.

What would you do?

The policy is no refunds/final sale btw.

I have total buyers remorse and I am worried there are dresses that are more fitting of my personality/body.

Help! I'm so in shock.