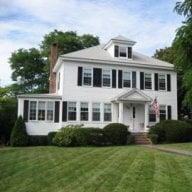 Joined

Nov 19, 2006
Messages

1,286
Hoping for some advice from the PSers...my bf gave my my anniversary present last night, it is the Tiffany open heart/ pearl lariat necklace (I''ll try to post a link) The way he packaged it up was really cute...he had been teasing me for ages that he was going to get me a toaster, so he packed it in a toaster-sized box and put in copier paper so it would be heavy. And then when I opened it there was the "little blue box"...so sweet!
The thing is, while I like the necklace, he gave me the regular open heart pendant for our anniversary a few years ago. I really LOVE that one, and this one just seems very similar, not as "substantial" and I don''t *love* it like I did the other one. Last night I told him I really liked it, but when I went to look at it on the Tiffany''s site this morning and saw how MUCH IT COST I was surprised...I guess I feel like a) it is not really an "original" present since he got me a similar one before and b) for the price I should LOVE it.
Maybe this is a little unfair to him...I know he was really excited about it because he kept saying before that he got me a really good gift...and he is certainly trying...I like pearls, I like hearts...I should like the necklace right?
At the same time, I think he might be open to me returning/exchanging it, with him of course. I''m going to try to talk to him about it tonight...any tips on how to approach it?
PS One thing is, he ordered it online, and said he wasn''t totally sure when it arrived...maybe that will help? I do like the online photo better than the necklace in real life
PS2 here is the link:
http://www.tiffany.com/Shopping/item.aspx?sku=21088927&search_params=t+open+heart+pearl-s+0-p+1-l+-h+-c+-r+-x