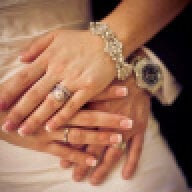 Joined

Sep 5, 2007
Messages

2,201
So I was looking at luggage yesterday and thinking about the last time a friend and I went to Paris and how we each had the largest piece of luggage with us. My friend must have had a 30inch plus suitcase I was probably a 28inch or so. They were huge! His was a monster!

Suffice to say none of the parisian taxicabs would take us from the train station to our hotel so we wound up lugging these things on the metro and through the city streets. We were lucky they had wheels!

So for local vegas weekend type travel I'd take the mid-size/you can take it on the airplane sized bag. But for longer trips like back east to visit family I take the bigger case with room in it to bring stuff back.

My DH and I are going to Europe for our honeymoon at the end of May to June. We'll be in Paris, Athens, Mykonos and Santorini for three weeks. Both of us will probably want to bring a wide variety of clothing although I'm sure we can pick and choose a bit since it's a long trip and we'll be moving around quite a bit. The concern I have is 1) will we have enough space in our luggage for our stuff, plus any shopping we may do... coupled with problem 2) I do NOT want to get ditched by cabs again in Paris for having too large of luggage and 3) I don't want to lug giant luggage around from town to town and 4) What if we lose our luggage, that's a lot of stuff to carry around for a long trip that may get lost.

I've traveled quite a bit and been in situations where I've had stuff robbed from luggage (not a huge concern for this trip), lost luggage, lost friends luggage, delayed luggage, etc etc.

Anways what do you usually use in terms of luggage when you travel and for what kinds of trips?