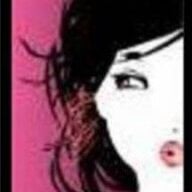 Joined

Mar 28, 2008
Messages

6,181
In honor of Valentine''s Day

(well almost), and because I must be feeling extra in-love today, here''s a question for ALL the ladies (Brides/LIW/Wives/Girlfriends...GUYS, sorry, I''ll get you next time

):
What turns you on most about your man?
Not necessarily in the "Let''s ''do it''" context (that''ll work too!), but what makes you go, "God, he''s so sexy/hot/fine (whatever adjective you prefer) I''m so lucky!"
--Things that make me wanna jump my FI are:
*When he''s trying to stay angry and he clenches his jaw...s.e.x.y.

*Watching him do push-ups/pull-ups at home...

*Watching him play guitar/drums. It''s like love at first sight.
*When his Nuyorican/Queens-boy accent comes on strong (usually when he''s mad or excited). Then it''s on!!!

*When he surprises me by making dinner (very out of the ordinary btw) I get soooo happy, it''s unreal.
There''s more

but I''ll stop there.
So what about you all????
BTW: Happy V-Day Everyone!!!!!!!!