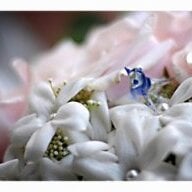 Joined

Oct 12, 2006
Messages

527
Hey Ladies...
Fatafelice had me thinkin this morning... (which I have always vowed NEVER to do on a Saturday morning before coffee...

I thought I would ask: what things have happened over the course of your planning has made the idea that you are getting married more "REAL"?
For me.. its been a couple things:
1. I had the dress moment!!! When I tried on my Rivini gown for the first time.. and my bridal consultant put the veil over my face... I LOST it... full on crying.. I dont know what it was.. I just could not control my emotions. I honestly think that I pictured my Fi''s face as I would be walking down the aisle.. and it was just pure happiness that came over me.
2. Watching the slideshow dvd of our Engagement pictures for the first time. Something about seeing us walking hand in hand down the beach.. with sappy music attached.. just did it for me.
3. Invitations... this of course will be a continued thought on Monday when I actually receive them.. but the whole design process just really opened my eyes.. seeing the words "marriage" and our names... just really hit home.
4. Lastly.. the holidays.. I woke up christmas morning... thinking... "this is my last christmas as a (insert last name here)!!!"
Same for New Years... Midnight hit.. and I said to my Fi... "Baby.. this is it.. your last ''single'' New Years Kiss!!!" hehe... I get giddy just thinkin about it.!!!!!
I hope you all enjoy this thread as much as I have enjoyed writing it!!! It made me smile this morning.. which I need.. since now I am off to the gym.. ugggghhhh....
Goodmorning everyone!!! Enjoy the smiles!