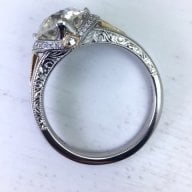 Joined

Oct 8, 2015
Messages

290
I have just taken advantage of Valentine's sale prices at
JA
to get some stacking rings. I have never "stacked" before. One of my goals was to get a thin band in a size that will keep my diamond ring, which is temporarily set in an antique setting that is slightly too big, in place better. Since I'll be getting a new setting (when I figure out what and where) in the next year I thought, rather than resize the diamond ring why not get some stackers both to keep the too-big ring from spinning, and more importantaly prevent it from flying off, which I have been worried about.
Anyway, what I got from
JA
is as follows: (my idea is to keep two and likely send one back)
1) Platinum 3mm Slightly Domed Comfort Fit Wedding Band SKU 19101P
2) Platinum 2mm Knife Edge Women's Wedding Ring SKU 14711P
3) 18K Yellow Gold Cable Wedding Band SKU 14751Y
The cable band is delightful and likely a keeper, even though it does not look right with my diamond ring. I'll wear it with other rings. The 3mm is basic and substantial, which I thought would be a good thing for my bigger fingers (size 7.5) although maybe 2 or 2.5 mm would have been better, but I would have had to get the "traditional slightly curved" ring SKU 19128P. I wanted the "slightly domed" ring for a substantial feel and the thinnest it came was 3 mm. The knife edge ring is what I have a question about. Are knife edge rings supposed to be SO knife-like?? It's pretty sharp. Is the idea of knife edge that since only the pointy part comes into contact with surfaces that the whole thing will stay shinier? Or is it just an appearance thing? Who came up with this, Tifffany?
It's also interesting the price comparison. List price for the domed comfort fit is $340. List for the knife edge, which is thinner and VERY much lighter, is $460. I put them on the kitchen scale and the domed ring weighs 5 grams. The knife edge weighs 2 grams. The domed ring must be simpler to manufacture, I guess. It's stamped Benchmark PLAT. The knife edge is stamped
JA
Plat 274365. The cable ring is stamped in script font
JA
18K.
Long story short I like the way the knife edge looks with my ER better, but boy is it sharp. I might get used to it. All three rings have the desired effect of preventing spin and fly-off of the ER. Is it crazy to get the knife edge smoothed/flattened a little, or is that even possible? All expert advice welcome.
One other thing: I'll have to look closely under magnification to see where on the ER the point of contact is with each ring. There is a small diamond that might end up having the stacking ring right against it.