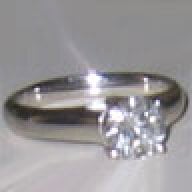 Joined

Nov 8, 2005
Messages

3,136
I didn't want to threadjack MsFlutter's thread about quitting her job, but I was just curious, does anyone stay home (and not because of raising small kids)? I work and go to school, and all of my friends either work full time, are students, or are home with young kids. So I'm wondering, what is it like not to work? Is it fun? Do you miss working? Do you feel you could go back if you wanted to? I fantasize about not working, but that's because I've never had a job that I truly love, and I have several hobbies that I DO truly love and don't have enough time for! But I wonder if the reality would be as good as what I envision. Oh, and this is all hypothetical for me - just wondering!

ETA: My mom stopped working to raise us, and did not go back (although she does a lot of volunteer work). I asked her the other day if she missed working and she said heck no, I'm having way too much fun!

Also, just want to clarify that I think staying home with kids is probably at least as hard as most jobs! (I don't have kids, but from what I hear!) In no way am I trying to imply that staying home with kids is leisurely, in fact I'm sure it's quite the opposite!