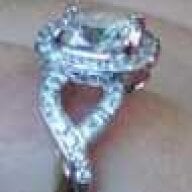 Joined

Feb 18, 2007
Messages

1,052
I have read the postings debating whether to give the diamond certificate to the independent appraiser
prior
to them doing the appraisal. As I recall, there were strong feelings from both sides regarding if you should or shouldn''t. I am not trying to dig up the old debate so let me tell you what I did.
I gave the cert to the appraiser up front because she asked for it. I told her I didn''t offer it to her because I didn''t think she would want it to influence her. Her response was that some certs were fake and she must see if it was authentic.

Ok... I admit I thought that was strange because I wanted the diamond appraised, regardless. Even if she wanted to confirm the authenticity I felt she could have done that after her appraisal, but this was my first actual "I''m-gonna-pay-for-it" appraisal experience and I didn''t know what the process was like. Of course, there may be other reasons she did this...I just don''t know what they are.
Well, all I had was a copy of the certificate from the seller which did not clearly show all the inclusions because they were so tiny and simply didn''t copy well. In fact, I didn''t even know about some of the inclusions until I got the original cert the next week. Anyway, the appraiser admitted she didn''t see all the inclusions that
were
shown on the copy. I even followed her out of her office to go to another area to look at the diamond with a different scope. She did show me one of the inclusions but had the scope magnified higher than 10X, which she may have done to help me see it easier. It was evident that this inclusion was noted on the cert so I was sure the diamond matched the cert. She mentioned she saw a black inclusion that wasn''t even listed on the certificate but didn''t show that one to me. (I know, I should have asked to see it)
When I received the final appraisal in the mail a week later, her diagram matched only a few of the inclusions listed on the certificate copy...meaning the additional inclusions that could not be seen on the copy were not there, the inclusions she admitted she could not see were not there (rightfully so), but there was no additional black inclusion that she said was there, either. Let me tell you, I have a 10X loupe and I am no expert but I have stared at that stone just trying to see the inclusions listed on the cert and I don''t see them. I keep trying so I will have a fingerprint to identify my stone. I see nothing --and I can''t help but think I would notice a black inclusion.
So...is it normal for an appraiser to not see the inclusions listed on the certificate? If she saw a black inclusion shouldn''t she have indicated it on the diagram? She appraised the diamond as VS2 (same as the GIA cert) and I would think a black inclusion may have made the clarity go down. True?
I''m sure I should have asked her to spend more time with me but I can''t help but feel that this appraisal may not have been given the attention that I was hoping for.