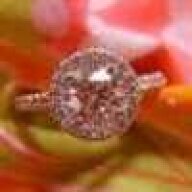 Joined

Feb 23, 2009
Messages

56
After a lot of research, I found what I considered to be a great diamond (for our price range) and sent the link to my boyfriend, who has since purchased it. He purchased the diamond from James Allen so that it can be set in a Danhov setting with minimal hassle, however, I''ve since read that some of the diamonds sold on James Allen can be questionable. I''m curious now. What do you think of this diamond?
Shape: Round
Carat weight: 0.80
Cut: Ideal (the GIA report states "Very Good")
Color: G
Clarity: SI1
Certificate: GIA
Depth: 62.7%
Table: 54.0%
Polish: Very Good
Symmetry: Very Good
Girdle: Slightly thick to thick
Culet: None
Fluorescence: Faint
Measurements: 5.90*5.94*3.71
Crown Angle: 34
Pavilion Angle: 41
I confirmed that the diamond is eye clean. I feel like I compromised on a few things (girdle, fluorescence) to hit our price point. The diamond certainly does not have to be "perfect".

I learn new things on here every day, so I hope I didn''t jump the gun! Thank you for your input!