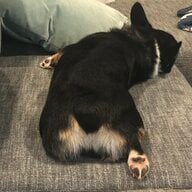 Joined

Jan 4, 2019
Messages

1,777
My company announced layoffs are a possibility (well they're basically asking people to quit) and it got me thinking...

I remember my mom getting laid off while heavily pregnant with my sister and then struggling to find a new job during the Great Recession. I remember my step dad taking another job because my mom couldn't even get interviews for low-level positions.

I know the general rule of thumb is 6 months expenses and you should invest the rest. My husband wanted to do this but I said no, I want a year + a car (we sold a car when my husband got his company vehicle) in the bank before we stop saving and start investing heavily. We already have 401ks and IRAs - so it's not like we're not investing at all.

We live near Seattle and the car I want to save for is a BMW, so that's a significant amount of money. Obviously, with us having no kids and both of us working, chances are we could stretch that savings for years if we had to. Our current savings is about 10 months of expenses and we could stretch that for about 4 years with one person working. But I can't shake the feeling that it's not enough saved.

I'm curious how other people feel about this and am throwing this out for discussion.