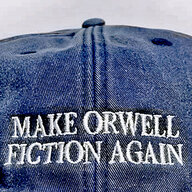 Joined

Apr 30, 2005
Messages

32,177
I refuse to give up my paper towels.



There's just something nice about using something you know is clean and
throwing the gunk away
!
If I transfer the gunk to a cloth I have to rinse and wring out the cloth, which gets some gunk on my hands so I have to wash them.
Still, some gunk residue will remain in the cloth and breed bacteria.
Ever smell a kitchen cloth/sponge after a few days?

Eventually the cloth has to be washed using water, electricity, and gas, and putting more soap down the drain.
Even if someone (not the paper towel industry) did an detailed analysis of all the environmental pros and cons, and paper towels were proven to do more harm, I still wouldn't give them up.
So go ahead and sue me.
I do so many other green things I don't feel too guilty about this one.
What non-green habit do you refuse to give up?