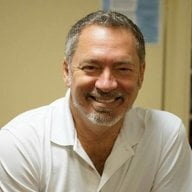 Joined

Mar 28, 2001
Messages

6,330
Little busy here but was appraising this stone today and found it to be an interesting subject for an online Q&A.
Ok all you armchair gemologist''s. Here''s the questions.
1. I realize this is a tough question only viewing this one pic but what the heck ... take a stab.

2. What phenomena is being observed?
3. Does it contribute to the clarity grade of the diamond?
I''ll check back later in the day (Lord willing) to check on the answers.
Peace,
Rhino