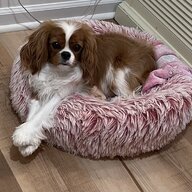 Joined

Aug 12, 2005
Messages

18,991
DH is a huge Bears fan, I''m originally from IN (was a Colts fan when I met him). He has yearly season tickets for the Bears but decided not to get tickets for Miami, and obviously it''s kinda late now, so we are going with a bunch of other friends to our favorite local bar where we''ll watch the pre-game festivities and then the game...DH has already taken that Monday off, lol.
While I love watching the game, the most fun i have is putting some thought and creativity into what I''m going to wear...DH got me this really cool Bears purse online for Christmas (see attached pic) and I have a Bears visor made of navy jersey material with Swarovski crystals accenting the Bears logo on it (it''s so cute!) I looked online for the last month or so to find a great shirt or jacket with something sparkly and Bears related on it but alas, there is nothing left...so I decided to make my own. If some of you recall, like Mara, last year I decided to Swarovski-ize my cellphone, so I ordered Swarovski hotfix crystals in orange, blue, and crystal and a bejeweler (LOL) and am going to design my own shirt when they arrive this Friday. I also have face paint ready to go for game day...I''m really excited!
Any other NFL fans out there getting ready for the big day? The superbowl to me is one of those events that sort of breaks up the blah winter months, so I usually get pretty involved (ok not as involved as THIS year, though!), just wanted to hear about everyone else''s plans!
Go Bears!