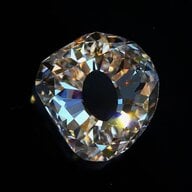 Joined

Oct 21, 2004
Messages

5,085
http://www.diamonds.net/news/NewsItem.aspx?ArticleID=25734
" Pearl of Baroda Rug Fetches Almost $5 Million at Sotheby''s
By UPI Posted: 03/20/09 15:04
(RAPAPORT) UPI: An 18th-century carpet commissioned by an Indian maharajah has become the world''s most expensive rug after selling at auction in Qatar for $4.8 million. Sotheby''s said the price fetched by the famed Pearl Carpet of Baroda broke a record of $4.45 million, set one year ago for a silk Isfahan carpet, The Peninsula, Qatar''s English-language daily, reported on Friday.
Created using an estimated 2 million natural seed pearls, the Pearl of Baroda features a centerpiece of three large rosettes put together with table-cut diamonds set in silvered gold. Sotheby''s says a rare Safavid silk velvet panel from 17th-century Iran sparked a bidding battle at Thursday''s auction and ended up selling for ten times its estimate.
The Qatar auction was Sotheby''s first international auction series in the Middle East. It took in $18 million, including buyer''s premium, The Peninsula reported.
Copyright © 2009 United Press International"
http://www.sothebys.com/app/live/lot/LotDetail.jsp?sale_number=D09005&live_lot_id=401