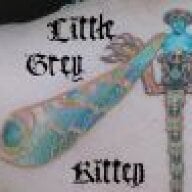 Joined

Nov 27, 2007
Messages

2,975
So. Last night, I was tossing and turning around 4AM, definitely had NOT fallen asleep though. The phone rings. It's the security alarm service for the antique mall. Two- not one, but TWO- motion detectors tripped. That's not good. One, occasionally a false alarm. Two? Not so likely. So, the security company has sent out the police prior to calling me, luckily they're only about a minute away tops (about two blocks). I wait for a few minutes dithering and getting dressed. Cops report back. Mall is secure, but infested with an upset orange pussycat.
Turns out, DH left our front door unlocked and wide open. This is difficult- in order to close the door at all you must shoot the deadbolt, so I have no clue how he wandered off with it hanging wide open. There's a very twisty, turny, mazelike route for something, oh, about the size of a cat, to find their way down to the five floor, 35,000 square foot antique mall. Freaking FABULOUS. We go trekking downstairs with the sun just barely coming up, cat carrier in hand. Indeed. O.P. is yowling miserably in the main hall, quite lost obviously and fussing up a storm. He was thrilled to be found, the ridiculous thing. We secure him in the carrier and he starts purring up a storm (he loves the carrier, naps in it all the time, the weirdo.)
However. Newbie cat? The one year old, one eyed grey boy Dexter we just got a few weeks ago? Nowhere to be found. Can you imagine how many nooks and crannies there are to hide one small, scared-stupid kitty? Let me tell you- a LOT. I've seen him tuck himself behind a mirror propped on the floor with about a 3 inch space behind it. Anyway, had to leave off cat-hunting and finally go to bed. (Woohoo, a total of 6 hours of sleep all together for the last two nights combined... I'm about to faceplant on my keyboard).
Woke up early. Searched mall top to bottom. Staff came. Helped me search. Between me and my best friend (who kindly came and helped me cat-hunt) we seriously have checked every nook and cranny we can think of. With a flashlight. Three times at least. No Dex. We had to open, still cat-infested. Posted signs all over the doors asking people to knock or call the desk to be let in. Sucks, but I don't want Dex to get out. Amazingly, though we've been pretty busy, all the customers have been super understanding about it. In fact one tiny boy about three or four years old was utterly determined to find Dex and called for him for about two hours straight, it was super cute. DH was ticked I locked the mall, but I told him to deal since he was the doofus that left the door open and I wasn't going to risk Dex running out because some idiot let him or wasn't paying attention- I'd trust the staff, but customers? No.
Anyway, not a single hide or hair of silly Dex has turned up. No spottings. No meows. I'm kind of freaked out. I can't imagine he got out- the only possible way would've been when DH took the garbage out and I think that's highly unlikely. It's just odd though- Dex isn't that shy, just somewhat agoraphobic after growing up in a shelter.
Oh, and O.P. took a giant, icky runny poo inside a wardrobe and then wiped his butt on a wedding dress. That was pretty awesome. Go O.P.

So anyway, one of the employees and my best friend both have humane traps, so we're setting those tonight and loading them with the stinkiest tuna imaginable, and putting them on different levels.
Also, I quit smoking cloves this week. Ask me how *that's* going right now! (Or don't
. ) Still, I've been good and not smoked since last Sat. (E-cigarette has been an excellent way to quit for me, actually.)
Anyway, wish us Dex-catching luck tonight- I'm afraid we're gonna need it at this point.
I did lecture O.P. most sternly for losing his kitten- I'm quite sure he was the instigator and Dex followed along with his troublemaking. O.P. is quite upset though- having just had his Rat kitty pass away he's now freaked the heck out that something awful happened to Dex.

At least Dex is ok- wherever he is in here!