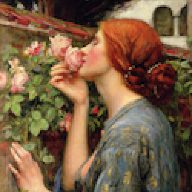 Joined

Feb 2, 2015
Messages

2,763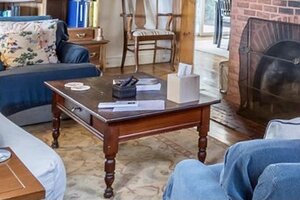 In about 1986, my grandfather fashioned a coffee table for our summer cottage in Maine by cutting down the legs of a c.1920 kitchen/work table. It was rustic, but appropriate for the house where our family gathered for lobster and beer, for wild blueberries and Peaks Island honey, for stories and poetry recitals under the stars. We never gave it a second thought, once it was in place. The table sat in front of the fireplace and hosted dozens of pairs of random wool-rag besocked feet, and sometimes a chess board, and various magazines and coffee mugs and wine glasses, and fishing lures, and so forth. In 1992, it was my pedestal, as I stood slowly rotating, in 1930's shoes, in a thrift store wedding gown, while my grandmother knelt beside me, pinning the hem. That day saw the addition of one small Louis-heel shaped dent in the table top. Nobody noticed, not even me.
This spring, the cottage was sold to developers (gut punch), and I was offered my choice of furnishings from the house as it was being emptied. I hadn't considered the old coffee table and had planned to gather other things. But amidst the flurry of cardboard boxes and burly moving men, my mother appeared carrying the blueberry blue kitchenaid mixer I'd been coveting for decades, looking for a place to wrap it up. I managed to clear space on the coffee table. Taping up the box, I saw the dent. Misty eyed and silent, I remembered. "The coffee table comes with me," I said, and no one blinked.
Fast forward six months, and this shabby old table has become the
sine qua non
of my living room. In looks, it's quite unremarkable, but I can't imagine ever having a different one now. The drawer that once held detritus of generations, is now empty but one remote control and an old pack of cards. What else should I place inside, to furnish such a special piece of my own story?