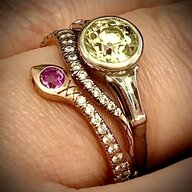 Joined

Jun 22, 2007
Messages

2,398
Soooooooo, I have been wanting some
WF
bezel studs since I first saw FireGoddess''s beautiful pair over a year ago (at least it seems like it has been that long)...
I watched many members of the forums get them and post pics... still wanting them... then
WF
started offering them as RSG and I was excited.. finally within my reach...
I have been saving for a while and finally was able to get the .25tcw (in 18kt wg) which I think is a great everyday size (read: good starter size haa haa) and they go great with the little baby bezels that my mommy bought for me when I was 16.
The studs were a gift to myself for finishing my masters this past month...

So here are my
WF
RSG .25 tcw studs with a few friends (my ering and a band that hubby bought me for this past Christmas that I have not had time to post yet). The band is .33tcw and two-tone 14kt gold.
First up is the
WF
picture of my studs... oh, and can I give a big thank you to the whole
WF
team.. I have never been so impressed with customer service before... it was a great experience.
Here we go...