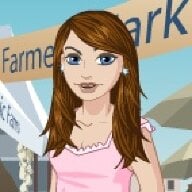 Joined

Feb 17, 2006
Messages

3,867
During lunch I was talking to FI about not going to the place in Philly and I looked up Alfred Angelo thinking that Cumberland, MD was the closest but he said "Lancaster is closer!" and he was right... only 78 miles away. So he pulled me out the door and we went. He dropped me off at the store because I didn't want him to see the dresses and I braved it alone.
It's REALLY hard to go by yourself. Not for emotional reasons or decision making, but for the sheer logistics of it. Fastening that long-line strapless bra? NOT easy by yourself!!! And zipping up? I had to wait for help from the overworked attendants. But I managed.
I found two that I really liked but I don't think I'm quite done yet. It was nice to at least have some options so I can stop now if I want to.
I didn't think I'd like this but it's my current #1 in white/mocha #1231
I liked this one and would go with "Riveria Sky" as the band of color (almost periwinkle blue) #1612