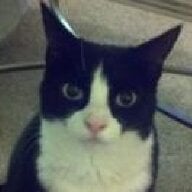 Joined

Aug 8, 2005
Messages

40,225
Don''t you love the Maul jewelers. It''d been a while since I''d had any fun there at all... so I went to BBB and Barons.
Ahh BBB... the sales lady clearly thought that bullying was the best sales tactic to win her sales.
Went in, asked to see Tacori and
Ritani
and Memoire. Woman was happy... but decided to with bored expression.
I wanted to show FI the Tacori ''inspiration'' setting... and compare the beadset halo to the
ritani
halo. And I wanted to look at DS''s eternity band (lovely BTW). I asked her to clean my ring... she went somewhere for 15 minutes then returned with my ring... which had clearly not been cleaned. Then she proceeded to bully us into a setting choice. Picked up the
ritani
and the tacori and keep trying to get me to pick one... impatiently, and then when she saw I couldn''t commit turned on DF the second I walked away and said, "well, no wonder she''s having problems choosing a setting, you haven''t helped her with this decision at all... pick the one you like and I''m sure I can talk her into it." We left.
Went to Barons (my ring was still dirty) as they have a better Tacori selection anyway... and saw a really lovely setting I hadn''t seen before... the pic is below... but shown for for the round and doesn''t look that great... for a square stone it''s stunning. The lady completely cleaned my stone... then praised me for my beautiful princess AFTER she louped it. But was sweet and generally nice... right up until she started lying to us. Tacori won''t allow changes to their settings (yes they do)... and they prefer that we sell the settings on the floor (the one she had was my size and fitted with a 6 x 6 CZ) and won''t build the setting for your stone... and won''t set your stone themselves. Completely brushed my comment away regarding the fact that the setting is for a PRINCESS with corners , and that mine is an ascher without corners-- told me I''m wrong... I have a princess. A PRINCESS. Um... no.
But I got a clean ring... another reminder of why I love PS AND got FI to admit that he no longer likes my setting.
I really need to buy an ultra sonic. Persian New Year is next month... might have to get one then.