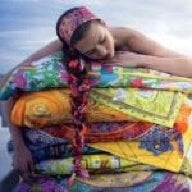 Joined

Oct 21, 2007
Messages

2,216
Hi everyone!

I''m putting together some welcome bags/out-of-town bags for our guests and would like your opinion on which one you would prefer to receive. There''s a bit of a price difference amongst them but I won''t list it as I don''t want it to influence which one you choose and the guests won''t know the cost anyways.
On another note, we have some male guests attending on their own (no GFs, wives, SOs). Would it be weird to give them these bags? I was thinking of giving them something more ''masculine'' but there aren''t many masculine beach bags out there.

Do men even carry bags to the beach??? What do you think about giving them the same bag and letting them know they can then give it to their wives, GFs, mothers, sisters, etc... Any suggestions would be appreciated!
I''ve found some fun stuff to put in these bags and am looking forward to handing them out.

I hope our guests like them!
CDN